What did your neighbor really pay and how big is their house?
Douglas County keeps all of the information about your home and mine public on their website.  The website is actually pretty advanced as far as county websites go.  Just compare it to Adams County and you will get an idea of what I mean.  The Douglas County Assessor website is where I spend much of my investigative time when looking for real estate information that Metrolist does not offer.  ( Metrolist is the Denver MLS service where realtor's get most of their information ) The website offers Geographic mapping where you can find a parcel from a satellite view and get the full information on the property.
Public Information on Highlands Ranch Homes
You can find out square footage, year built, amount of real estate taxes and assessed value on homes in Highlands Ranch, Lone Tree, Parker, Castle Rock and more.  I made a video that shows you exactly how to access the website and find properties based on the address and the owner's last name.  You can access the video on How To Access Douglas County Assessor Information by clicking here. I hope that you find the video helpful.  The Douglas County Assessor site also has information on neighborhood sales so you can get an idea of what values are in your neighborhood.  Most appraisers use sales that have taken place within the past 6 months for comparables.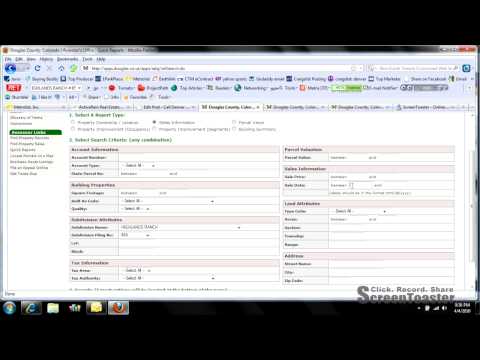 Douglas County Foreclosure Information

If you are looking for information like a list of properties being foreclosed in Douglas County or the sale date on a specific property, you will not find that information on the county website without paying for it.  Douglas County charges to get full access to foreclosure sale information.  If you want information on just one or two properties you can call them directly at The Douglas County Clerk and Recorder's Office at 303.660.7446.  Here is a link to foreclosure information for Douglas County. I also have access to a weekly list that I can email to you if you send me your information and request that list specifically.
Leave me your information below if you want foreclosure information.  Specify in comments section.
cforms contact form by delicious:days
Asa said at June 21st, 2013 at 4:41 pm

I want to to thank you for this great read!! I absolutely enjoyed every little bit of it.
I have got you bookmarked to check out new things you post…

my homepage :: real estate agent toronto (Asa)

HP Servere Proliant said at June 16th, 2014 at 6:46 pm

First of all I would like to say fantastic blog!
I had a quick question which I'd like to ask if you don't mind.
I was interested to find out how you center yourself and clear your head prior to writing.
I have had a hard time clearing my thoughts in getting my thoughts out there.
I do take pleasure in writing but it just seems like the first
10 to 15 minutes are generally wasted just trying to figure out how to begin. Any ideas or
tips? Many thanks!